pvi collective's creative collaborations in singapore
6 December 2019
what were the outcomes of our work with drama box and teater ekamatra
---
pvi collective travelled to singapore for two weeks to work alongside two other arts companies and develop new work. co-artistic director steve bull chatted to graeme watson about the experience.
you've just spend two weeks in Singapore working with two other arts companies, what's been going down?
i've been on a creative lab exchange that's tried to shake things up with an experimental running format. the impetus for the 2 weeks was framed around a provocation for each company to bring along an unfinished artwork or performance or experience and to offer that out for the other groups to work on. to frame a problem or issue with the work and set boundaries.
each group swapped twice so got to work on all works and help out in a generous creative way and ultimately find a new way of collaborating through the process. we had essentially three to four days of developing then a crash test day where we all presented and tried out what we'd been working on. there was also a public sharing where we attempted to run through the process and outcomes of the two weeks.
pvi brought along an emerging work of ours called 'topia' which is a participatory work about the future and is inspired by a book called four futures by peter frace. it's very on, has a conceptual framework and the idea of changing the present order of things for the better. our question was framed around 'what next?'
with a big work with no solid writing or script yet, we were interested by what strategies we could employ going forward that might help the development of the work. the pvi team was made up of myself and chris mccormick, who is a creative coder and technology consultant who has worked on a number of pvi projects over the years and has been prototyping some wearable tech for topia in an earlier research and development period back in perth.
tell me about the two companies pvi collective were working alongside?
the two singaporean companies were dramabox who are based in chinatown and hosted this second lab stage. their artists are koh hui ling and han xuemei, both inspiring to be around and share an interest around socially engaging audiences.
the other company was teater ekamatra, which are based at aliwal arts centre near little india. we worked with bani haykal, shawn chua and shahila baharom ilaila [ila], three amazing associate artists connected to the company. they shared an interest in socially political works and the use of game play in performance.
this is the second year of the collaborations, how was this year's experience different to last year?
this year was more hands on and about making things very quickly and crash testing them in singapore. while last year gathering was framed as a cultural exchange in both perth and singapore [10 days in each city] consisting of public talks, workshopping alongside after much talking and discussion.
the first years meet up was essential to this years meet up as it meant we had built trust among us, an understanding of each other's practise and how we each make work.
what was the most memorable experience you take away from the fortnight?
the crash test days were particularly inspiring. seeing the creative responses to the artworks and how each company had worked on something different that also complemented and worked alongside what the other company had made. in the case of topia, hui ling and xuemei responded with an interventionalist challenge to participate in and bani, ila and shawn worked on a proposed game mechanic that played out as a role playing game. lots of fun and food for thought going forward.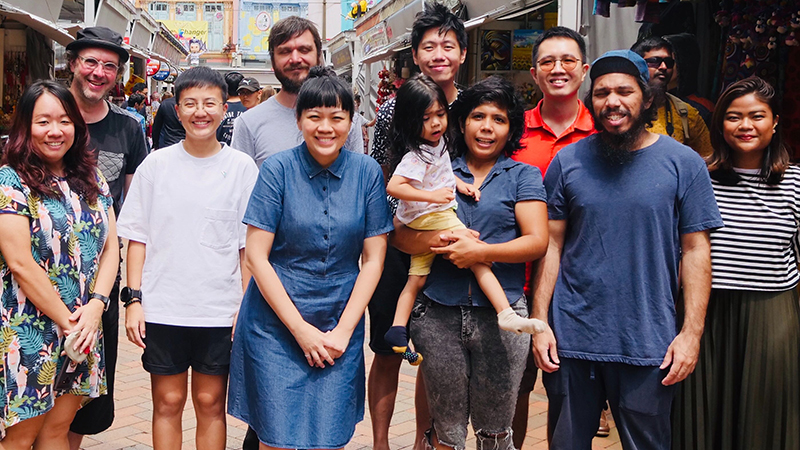 also, we had a documenter present throughout the lab who's role was to scribe the conversations and provide summaries at the end of each day. i think this added to the smoothness of the running of things and made it possible to access information from any point during the lab.
what does a company like pvi collective gain from working alongside arts companies in other countries?
sharing knowledge has been particularly very rewarding and it's not just been one way. the main goal of this collaboration has been to find ways of working together, beyond process to an eventually outcome and to question if that's even possible. it has been small but they have been significant steps so far.
what comes next in this process?
we've been tentatively talking about a proposed final phase that has a public outcome in both singapore and perth but based on how we shook up the format this year i'd expect it to move along from this initial idea. whatever happens, i can't wait!