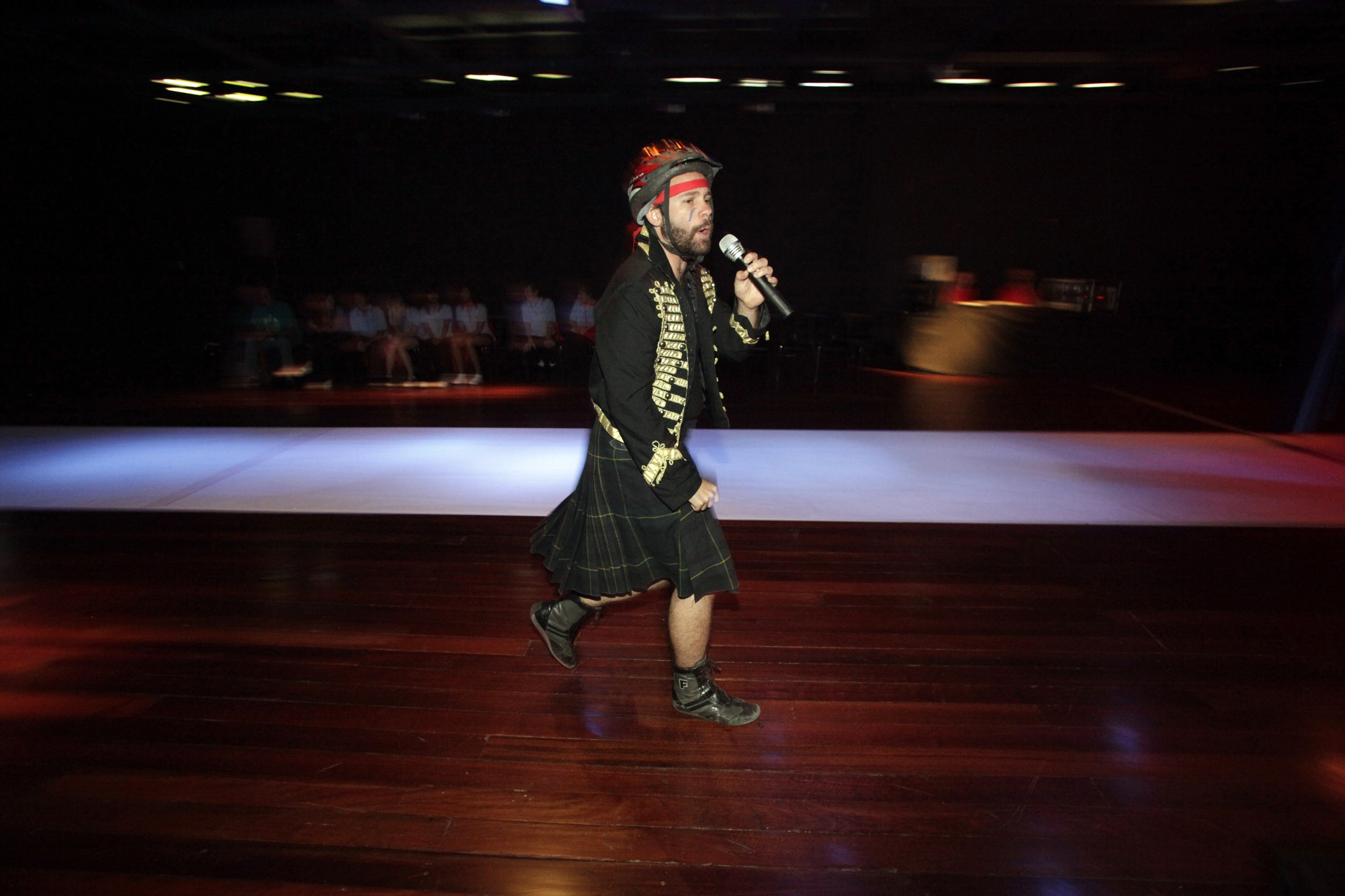 determined by the people, for the people.
about resist: the right to revolution
a participatory performance work seeking to construct or amend a country's constitutional rights using tug-of-war as a battleground to instigate revolution.
developed as a split-site work, audiences dressed in satin capes with the name of a famous revolutionary grafittied on the back choose a side 'for' or 'against' the right to revolution. during the course of the show, they are trained, tested and challenged on their true convictions. finally fourteen champions are selected to battle over the declaration to decide whether it becomes enshrined in a new bill of rights – determined by the people, for the people.
meanwhile, hooked up via a video link and screened live into the performance space, a lone revolutionary mounts a guerrilla campaign on the city streets, searching for comrades with a revolutionary spirit to join him. their mission is to infiltrate a state leader's workplace to deliver the results of the tug-of-war contest and hand over the mantle of champion of the people to them. resist aims to test the notion of people power in contemporary society and investigates how different modes of collective behaviour can generate social change. resist is both playful and drop dead serious in its intentions. it's time to make your mind up and pick a side..
click image to view the project gallery
testimonials
the first duty of a revolutionary is to get away with it. the second is not to trust anyone over the age of thirty. the third is to be guided by a great feeling of love.
abbie hoffman
australia is one of the only anglophone nations not to have a bill of rights expressing the core rights of its citizens. in resist: the right to revolution, we explore the depth and breadth of our assumed rights in australia, with the prospect of formulating the country's first ever civic constitution fought by the people, for the people, using an age old non violent conflict resolution device, the tug-of-war contest.
a declaration, pvi collective
It's a poignant moment, watching our MC, still at large, intone to the camera, "The will of the people has decided. The right to revolution will not be on the bill of rights." He takes the scrolled document, sets it aflame and lets it drop to the footpath, watching with exaggerated reverence. It's a surprising moment, and a poetic one.
urzsula dawkins
devised & performed by pvi collective
guest performer

ben sutton

pvi performer

james mccluskey

produced by

performing lines wa

commissioned by

awesome festival for bright young things