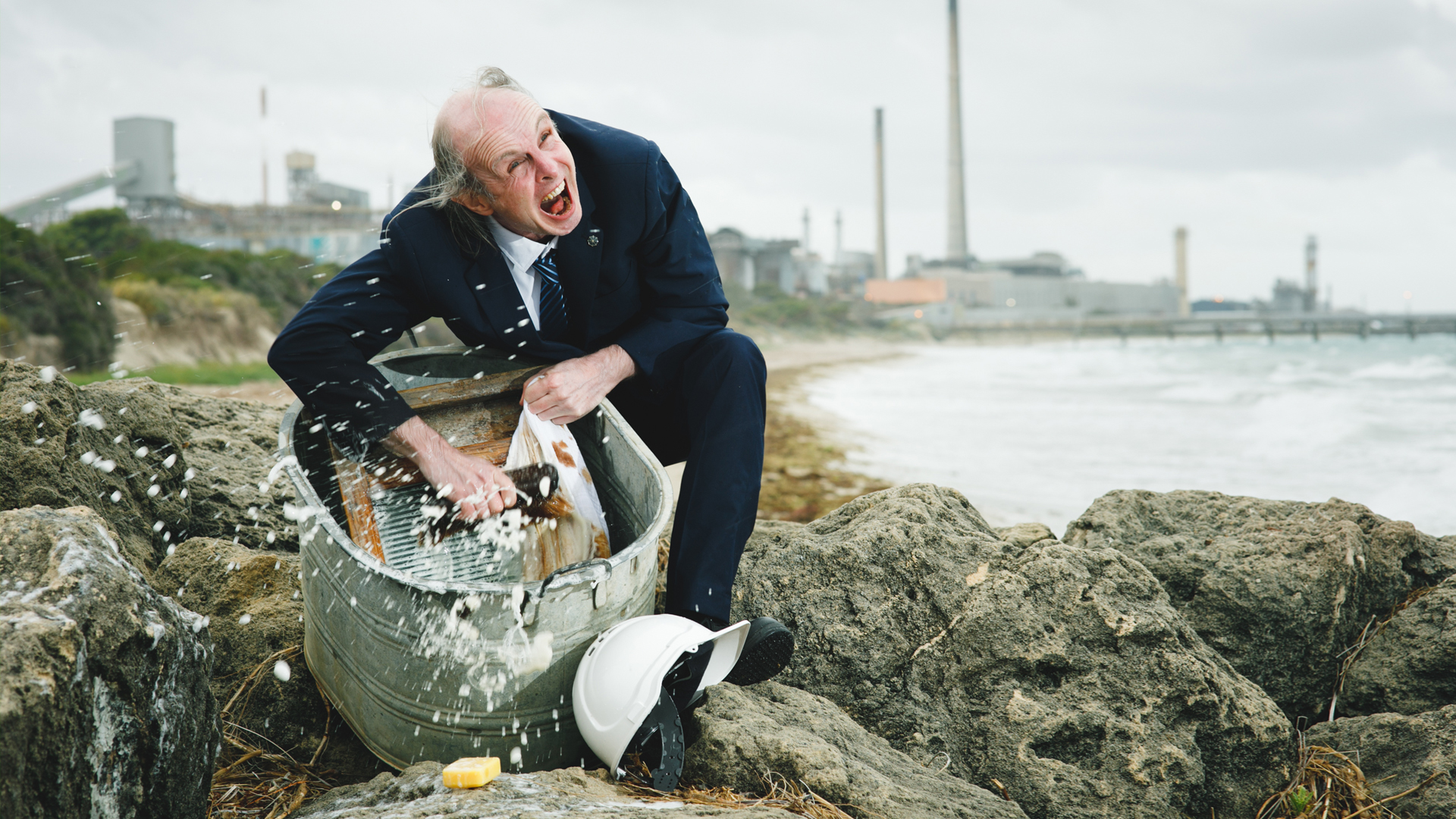 Why the artwash award?
The annual artwash award is a pvi collective initiative that aims to open up the difficult discussion around the impact of corporate investment in the arts, in particular how extractive industries may cultivate these relationships as strategic tactics to create their 'social licence to operate'. this in turn can stifle debate on the impact their polluting activities are having on frontline communities and more broadly, the climate crisis.
in devising this artwork, we hope to carve out space to consider what alternatives are out there, and how the arts sector can navigate towards more ethical and aligned partners.
so, with a healthy dose of satirical flair, see what you think is being done in arts' name…
what is the trophy?
each year, we invite a local artist to construct a bespoke award that can be hand delivered to the winner and will more than likely be tossed into a bin.
this year we are thrilled to announce that sharyn egan will be taking up the challenge and we are excited to see what they create.
the 2019 trophy design was made by: danielle freakley
the 2020 trophy design was made by: tarryn gill 
criteria for the nominees
in 2019 the inaugural artwash nominees were selected in response to data released by the clean energy regulator listing australia's top ten carbon emitters.
in 2020 the people's poll listed 3 options to choose from with an accompanying rap sheet of findings on each company.
in 2021 we ramp it up a gear and have assembled eleven rap sheets on companies who are actively artwashing through sponsorship, funding, philanthropic investment and/or grants, whilst at the same time looking like they commit some corporate and social sins.
background info
about the award:
seeded out of pvi collective's tiny revolutions project in 2019, the inaugural award was created in response to a submission received from a member of the public expressing concern over mining industries' funding of art institutions in australia and the impact their visibility has on audiences and arts organisations. the intention of the project is to refocus the attention away from the arts and cultural institutions back to the extractives sector by focussing on their known or reported behaviour, and its impact on the world.
pvi hand delivered a custom-made trophy to renowned arts sponsor darling, chevron, who at the time were believed to be the "biggest emissions polluter in western australia".  moving forward, pvi decided to run the award annually and conduct a people's poll to source the winner and in doing so, open up the debate each year. 
what do you hope to achieve?
we're keen to see increased monetary support for the arts sector in ways that empower artists and companies to choose bedfellows they align with. most critically, we want the mining and resource extraction industries to step up to the climate crisis with actions that fast track their timelines for going carbon neutral whilst protecting their workforces. this will improve their reputations directly, and not via the current artwash strategies.
what is a 'social license to operate'?
mining and extraction companies are known to cultivate arts and culture sponsorship relationships to help create a 'social licence to operate'. this provides the appearance of support from arts and cultural institutions within those sectors and the wider community whilst the companies continue to expand their operations, finance government lobbying and stifle serious debate on the impact their polluting activities are having on frontline communities and the environment. 






has this tactic worked previously?
following the who ban on tobacco advertising in the 1970s, the tobacco industry began to look for "corporate sponsorships" with museums, major cultural and sporting events and individual artists. corporate sponsorship became a strategic marketing tool for tobacco companies to advertise their company without directly advertising their products.
historically, arts sponsorships come with strings attached: recipients are generally required to put the company's name on advertisements, websites, promotional materials and can include naming rights on venues and festivals.
audiences [particularly those more environmentally aware and socially active] are questioning why their much loved festivals, venues, sporting and cultural events are sponsored by the very organisations they are taking to the streets to protest about.
why poke the bear?
we acknowledge that raising questions about the historical relationship that our cultural institutions have with mining companies is deeply problematic and uncomfortable for us all, because we are all complicit in some way, as audiences, artists and institutions, particularly in wa.
by 'poking the bear'  in creative, humorous ways, hopefully we can collectively strengthen attempts already being made by climate activists, schools strikers, green lobbyists and many others to hold the extractive industries to account for the wilful destruction of the planet – by looking past any 'artwashing' to the actual things these companies say or are reported to have carried out.
why now?
at a time when government arts funding is at a critical low point, it is a tough ask to imagine alternative models of sponsorship or financial investment that will help the arts sector flourish and be of service to its communities. is a bank more ethical than a mining company for example? whose standards of ethics are we holding ourselves accountable to? we don't have the answers, but we do know  that art has not only the capacity, but a responsibility, to confront the impossible and imagine new realities.  that's its job, and we are grateful to be able to keep doing our job through this art initiative.
has pvi received money from the mining industry?
short answer: no, but…
in 2018 pvi received grant monies from minderoo foundation and spinifex trust collaboration. minderoo has a 33% shareholding in fortescue metals group and uses income from dividends to pursue its philanthropic endeavours.  we realise this is putting ourselves in the firing line for criticism and that is ok, and it sort of proves our point. the goal was never to point fingers at arts organisations. as a small arts organisation, we understand completely the financial pressures that result in these relationships.
further readings and amazing resources:
the greenwashing files. client earth.
influence map. climate action 100
clean energy regulator, corporate emissions 2019 / 20. australian government
environmental justice atlas.
artwash: big oil and the arts. mel evans. pluto books
take the money and run. jane trowell, platform london.
rio tinto parliamentary enquiry findings dec 2020.
maps of gratitude, cones of silence and lumps of coal. gabrielle de vietri. 2019
disclaimer:
the artwash award is an initiative of pvi collective. pvi endeavours to ensure that the information we provide is correct at the time of publication, but no warranty, express or implied, is given as to its accuracy.  where a reference is made to statements or reports by others, pvi is referring to that statement or report as made or reported by that third party and is not making the statement or report itself and all such reference should be read accordingly. pvi does not accept responsibility for any decisions made in reliance on this document.
the shitfuckery graphs contain hyperlinks to other websites as a convenience to the reader. pvi has no control over these sites or their content.